Advanced Feature Parameters
When capturing SOLIDWORKS features through the DriveWorks Add-in for SOLIDWORKS additional Advanced Feature Parameters have been incorporated.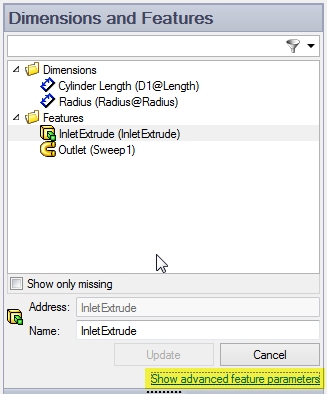 These include Advanced Feature Parameters for the following feature types:
BossThinBaseThin
Chamfer
ChamferTransformed
CircularPattern
CurveDrivenPattern
CutExtrude
CutExtrudeThin
Draft
Fillet
LinearPattern
LocalLinearPattern
OffsetSurface
PartingLine
RevCut
RevCutThin
RevolvedBoss
RevolvedBossThin
Rib
RuledSurface
SimpleHole
SurfaceExtend
SurfaceExtrude
SurfaceRadiate
SurfaceRevolve
TableDrivenPattern
VarFillet
Wrap
Please see the topic Advanced Feature Parameters for information on how to capture Advanced Feature Parameters.
Please see the topic Model Rules Advanced Feature Rules - Overview for information on how to apply rules to Advanced Feature Parameters.
---
File Formats
The following file formats can be captured for SOLIDWORKS parts, assemblies and drawings:
PNG - Portable Network Graphics file
PSD - Adobe Photoshop file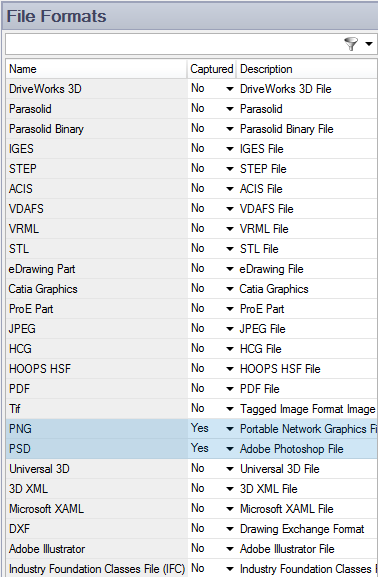 The image above shows the full list of file formats that can be captured for a SOLIDWORKS part.
---