Functions
The following is an index of all functions available from the Rules Builder.
This does not include any functions installed with any plugin.
All functions are listed by clicking the Functions button from the command bar of the Rules Builder.
Function category headers are collapsible. Double click the category header or use the arrow on the right hand side to collapse or expand the contents of the category.
Right click in the function area to expand or collapse all the category headers.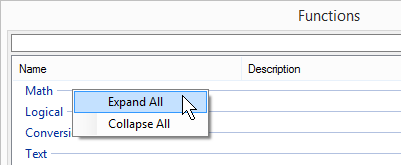 Show Function Categories
Check this option to view functions alphabetically by category. If you know the name of the function that you're looking for you may prefer to leave this option unchecked.
The chart below lists all functions available in DriveWorks.
Full Function List