File Formats
Whenever a part, assembly, or drawing is generated, DriveWorks Solo can also save the model or drawing in a variety of other formats, for example, eDrawings, DXFs, and so on.
When DriveWorks Solo generates the part, assembly, or drawing, it will automatically create any of the file formats in the same directory, and with the same name.
When an alternative file format of a model or drawing is required, rules can be applied that will control various attributes (depending on the format captured).
Capturing File Formats of models or drawings gives 3 options:
No - The File Format is not captured.
Yes - The File Format is captured and will be created each time the model is generated.
With Rules - The File Format is captured and rules can dictate if it is to be created and the location it is stored. For some formats additional parameters can be dynamic.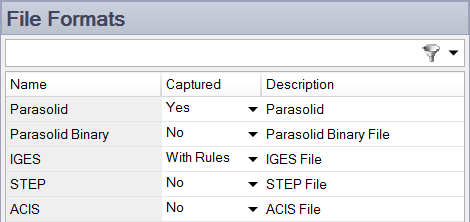 The exact file formats that are available depend on whether you are working with a part, assembly, or drawing.
Choosing File Formats
To choose one or more file formats, simply check/uncheck the box next to each file format you want to generate.
Export Options
Options can be set for the following file formats:
Parasolid
Parasolid Binary
IGES
STEP
ACIS
VRML
STL
Catia Graphics
JPEG
HCG
HOOPS HSF
PDF
TIF
Universal 3D
3D XML
Microsoft XAML
Adobe Illustrator
eDrawing Assembly
ProE Assembly
IFC (Industry Foundation Classes)
To set export options:
Open the master model in SOLIDWORKS
From the File menu of SOLIDWORKS select Save As
From the Save as type field select the file format the model is to be saved
Click the Options button
From the Export Options dialog choose the required format for the export
Set the required options and Click OK to save, and click cancel to cancel the save as operation.
This operation must be done on any machine that will generate models and drawings for any specification.