Edit Variable
The Edit Variable function allows variables to be modified directly from the Rule Builder.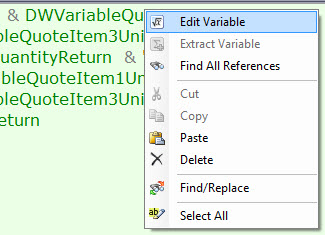 Edit Variable
To edit an existing variable contained within a rule, in the rule builder:
Click on the variable within the rule to edit, so the cursor directs focus on the variable.
Right click the variable to open the context sensitive menu.

Click Edit Variable. A further Rule Builder will open with the rule applied to the selected variable ready for editing.

Make the required changes to the rule and click OK to return to the original rule builder.