New Project Using Pre Created Content
DriveWorks Solo is pre-loaded with content that you can use. These are complete working examples that will give you a good insight in what can be achieved with DriveWorks Solo. Once loaded you can use them to specify new designs, drawings and documents, see how the user forms have been constructed and look at the rules and data used to make the samples work.
Loading the Pre-Created Content
The content is loaded from the Open/Create Project Wizard.
From the DriveWorks Solo tab of the SOLIDWORKS task pane click the Open/Create Project button.
Select the Create a New Project option and click Next
Select the template you wish to load from the Template window, Browse to a location to install the project, enter a name if different from the folder name and click Finish.
DriveWorks Solo will now create the template as a project, it will be available to be run immediately after the project is created.
Using Content from the DriveWorks Solo web site
The DriveWorks Solo web site (click link to open browser) has more pre-created content available to download.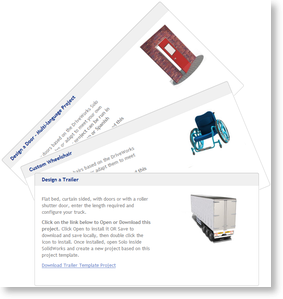 Once you have found the content you require click the link to download the .driveprots file to your computer.
Once the file has downloaded, double click the file, on the machine with DriveWorks Solo installed, to launch the DriveWorks Install Template Wizard. Follow the process below
Step 1

Select who will have access to the template

Click Next

Step 2

Confirm the selection made in step 1 is correct

Click Next

Step 3

When the installation of the template is complete click Finish to exit the wizard.

Step 4

Now follow steps 1 to 3 in the Loading the Pre-Created Content section above.

The downloaded project will be available from the templates list.