Enabling the DriveWorks Solo Add-ins in SOLIDWORKS
The DriveWorks Solo Add-in in SOLIDWORKS should be activated during the installation of DriveWorks. If the Add-in is not loaded it can be turned on by:
Open SOLIDWORKS and from the Menu bar click Tools> Add-ins.
From the Add-ins dialog scroll down to the section Partner Gold Add-ins.
Select the DriveWork Solo Add-in from the list.

Note, there are two options available for each add-in:

Active Add-in - Makes the Add-in active in the current session of SOLIDWORKS.
Start Up - Will load the Add-in on each start up of SOLIDWORKS.
Once the DriveWorks Solo Add-in is loaded the DriveWorks Solo tab is available from the SOLIDWORKS Task Pane.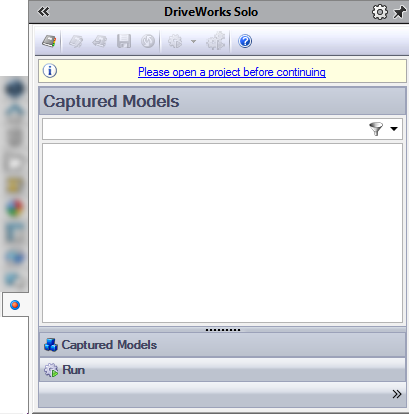 If the SOLIDWORKS Task Pane is not active:
Open SOLIDWORKS and right click in the Menu bar.
From the right click Command Manager menu select Task Pane.
The Task Pane will appear on the right hand side of the graphics window.
The DriveWorks Solo icon is displayed on the DriveWorks tab (see the image above). Select this to bring the tab to the front and begin using DriveWorks Solo.