Licensing
When you first launch SOLIDWORKS after installing DriveWorks Solo you will be see a helper link that prompts you to activate the product: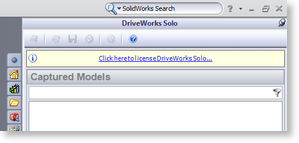 Once the Helper link is selected the Licensing Wizard will guide you through activating your license key.
Step 1

Enter the product code you received when you purchased or registered for an evaluation.

See How To: Find DriveWorks Solo License Keys if you do not have your license key.

Step 2
Enter some information about yourself to make it easier to support your license.
Step 3

Wait for the activation process to complete, this can take up to a minute depending on your internet connection.

Step 4

When activation completes, click finish to close the activation dialog.