Dynamic File Formats
When an alternative file format of a model or drawing is required, rules can be applied that will control various attributes (depending on the format captured).
Capturing File Formats of models or drawings gives 3 options:
No - The File Format is not captured.
Yes - The File Format is captured and will be created each time the model is generated.
With Rules - The File Format is captured and rules can dictate if it is to be created and the location it is stored. For some formats additional parameters can be dynamic.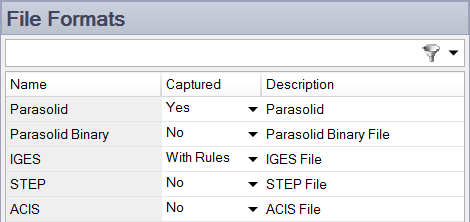 For information on applying rules to captured File Formats please see What's New Model Rules.
Capture File Formats
File Formats can only be captured for parts, assemblies or drawings that have themselves been captured.
To choose one or more file formats:
Open the captured part, assembly or drawing in SOLIDWORKS.
Click the File Formats section in the capture assistant.
Locate the required File Format from the list.
From the Captured column, click the drop down icon and select the required capture status.
---
See also