Task Pane (Run Mode)
When you run your project, the DriveWorks Solo tab changes into a "Running" mode. Some command bar items are hidden/disabled, and new ones appear:

Generates a preview of the model based on the current filled-in values

The Preview function loads files with a temporary name. This is to reduce load time when the specification is modified and the models previewed once more. In doing this any features or components whose rules result in "Delete" will be substituted with "Suppress".

Generates a drawing attached to the top-level model (the model must have been previewed at least once before this option can be used)
Provides previews of the documents in the project.
The area below the command bar changes to display the form(s) that were setup for the project.
The area below the form changes to display navigation options, and any form warnings which were setup for input controls.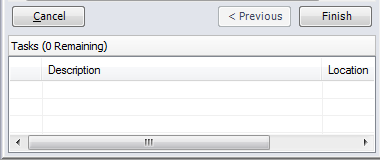 Finish
When the running project is finished by clicking on the "Finish" button, the following dialog is displayed: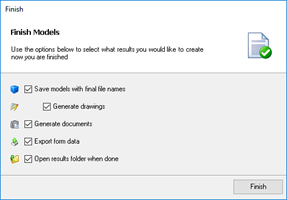 You can choose which outputs you want to generate, and also whether you want the results folder opened after generation has finished.
Run
The Run button available from the bottom of the capture assistant provides access to recent DriveWorks Solo projects.

It also provides access to sample content.
Double clicking any recent project takes you straight into run mode.
Right clicking any recent project will give a menu option to edit that project.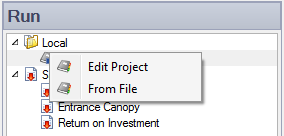 Hovering the mouse over any recent project will give a tooltip that provides the location of that project.